Features

and

Ingredients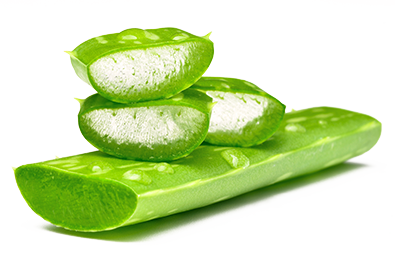 A Soothing Protective Balm
Kleenex® Balsam tissues contain Aloe Vera, Vitamin E and Calendula and leave behind a protective balm that helps to soothe your nose.
Dermatologically Tested
Kleenex® Balsam tissue are dermatologically tested for even sensitive skin so next time your nose runs, you know what to reach for.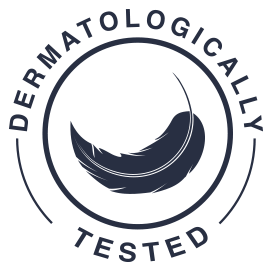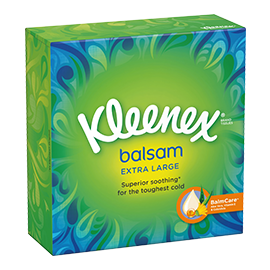 Big Tissue, Small Box
Kleenex® Balsam Extra Large tissues come in a compact box – our extra large tissues, just in a smaller box!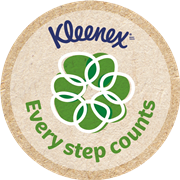 Kleenex® #everystepcounts
Kleenex® Brand is committed in its efforts to reduce plastic waste and make recycling easier whilst offering the quality you can trust.
As part of our sustainability journey, we have removed the plastic opening collar on all Kleenex® Balsam Compact tissue boxes.
Extra large tissues
It is a good product to buy this things and we will use product conviepnirnlty
No more plastic
Well done Kleenex getting rid of the plastic in the cardboard box's Little changes like this will make a big difference. Fantastic
Kleenex balsam
Great smell on the tissue Tissue is so soft and has aloe Vera and vitamin E added with the smoothness of not making the use a pleasantly one. Great for cold and runny nose Good size tissue for use
soft and fluffy.
I got this shape of box because I feel it's more compact so saves space, but really I just think it looks nice. The tissues are so soft and fluffy, even on a bad day fever day no red nose. They are enriched with Aloe Vera, Vit E and Calendula. Which all help with healing as well. Super product.
Good for your nose
If you're like me and you're blowing your nose all day to the point where this pack would probably last you a month at best, buy it. Tissues without balm end up making your nose feel like you're wiping with sandpaper so when you have balmed tissues it's a real struggle to go back so having a decent stock to hand is almost essential.
Super soft
Really great quality. Feels really soft on skin so great for sneezes as stops you from getting a red raw nose. Box is a handy size tissues are easy to take out one at a time. No scent which is great. Would highly recommend.
Very soft
Kleenex never disappointed me. Another great nose tissues. I suffer with a hay fever all year round so I have been trying loads of different brands and types of tissues and Kleenex Balsam are one of the best one. They are very soft and gentle on my nose. Another great thing is that they are very absorbent.
Super soft
I got this product not long ago and oh my goodness they are so soft and super absorbent. I have a sensitive nose and regulator tissues usually leave my nose all red and treated where as these tissues with the balm where just amazing 100% recommend
recommended
Products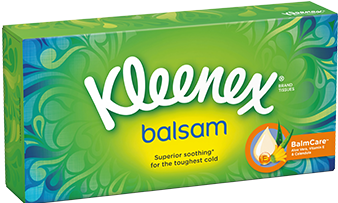 Kleenex® Balsam Tissues
Infused with a protective balm to give superior soothing* for the toughest cold.
Kleenex® Ultra Soft Pocket Pack Tissues
Supremely soft and silky tissues that leave your skin feeling beautiful. Available in a convenient pocket pack.