Get set for pollen season with Your Pollen Pal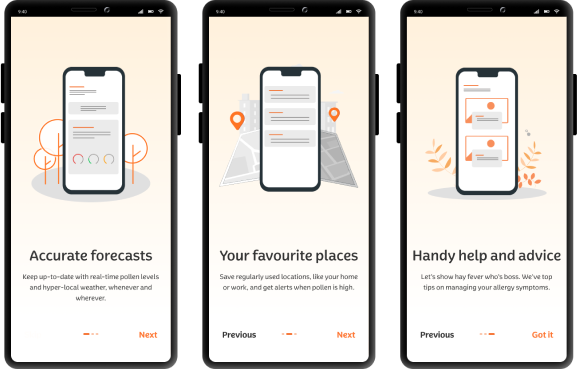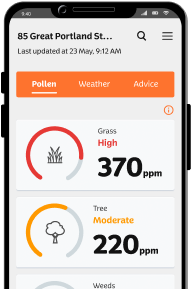 Keep up-to-date with real-time pollen levels and hyper-local weather, whenever and wherever.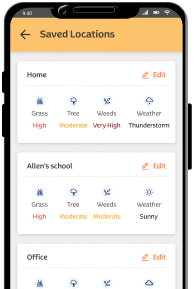 Save regularly used locations, like your home or work, and get alerts when pollen is high.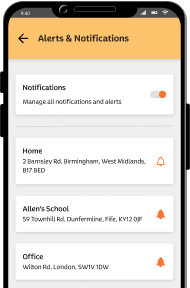 Let's show hay fever who's boss. We've top tips on managing your allergy symptoms.
Your Hyper-Local Pollen Count App
Stay up to date on pollen counts where you are. Your Pollen Pal gives you both the pollen count and forecasts in your local area, along with more detailed information about the types of pollen you can expect.
See Your Detailed Five-Day Pollen Forecast
You can check pollen counts over the next five days and save up to five favourite places for easy access to pollen count data. So whatever trips or commutes you've got planned, you'll always be prepared (rather than a snotty nosed, watery eyed mess).
Search Pollen Counts Anywhere in The World
Wherever you're off to, we've got you covered. You can search locations by postcode or city (in fact, anywhere across the globe) and keep an eye on pollen levels today, tomorrow – up to five days ahead! Great if you're off on holiday, want to plan ahead and don't want hay fever along for the ride.
Types of Pollen
With Your Pollen Pal, you can click on your Pollen Analysis to see the breakdown of specific pollen counts for that day. See which allergens within the tree, weeds or grass species are the key contributors to your hay fever symptoms.
Pollen Alerts When You Need Them
We've got your back. Turn on push notifications and our personalised pollen alerts can be sent to your smartphone every morning when the pollen is due to be high, so your hay fever and seasonal allergies will never catch you out. Think of it like your friendly pollen calendar keeping you one step ahead.
Handy Hay Fever Tips
Beyond being a pollen tracker, Your Pollen Pal app also has heaps of handy tips. From ways to help keep your hay fever symptoms in check to a complete seasonal pollen calendar, we've all the advice you need. After all, you're the boss - not pollen.
Want to learn from the FAQs
?
It gives you both the pollen count levels and weather forecasts in your local area, along with more detailed information about the types of pollen you can expect.
Kleenex work with Ambee - the most accurate climate and environmental intelligence platform in the world. Our purpose-built pollen tracker takes data from Ambee across several sources:
1. Pollen traps across the UK and beyond
2. Local weather on the day 3. The different types of trees, weeds and grass in your local area
Your Pollen Pal is accurate down to postcode level, so you can get hyper-local pollen forecasts for where you live, work, or places you plan to visit.
The Your Pollen Pal app has some new, useful functions that aren't available on the website version of the tool including:
1. Automatically see the pollen count for where you (and your phone) are
2. Save up to five favourite locations so you can check the pollen count and weather at a quick glance 3. Receive alerts straight to your phone when the pollen count is due to be high that day
4. Plan for any adventure! The app lets you search for any location around the world, not just for postcodes in the UK