The unprecedented nature of Covid-19 has been challenging for a lot of different reasons. When we initially went into lockdown during Spring 2020, the whole family had to shake up our usual day-to-day routine. After a while (and a few necessary adjustments), we fell into a happy rhythm of a new daily routine though, which became our 'new normal'.
For a lot of families across the UK, changing a well-oiled daily routine can be a big struggle – especially when it's something we're not wanting to do. But of course, staying indoors and working from home is crucial to help get the world back on track right now. I want to share some of the ways I've carved out a 'new normal' for my family, to make sure we're all happy at home and getting the space we need safely.
Separating work and home



At the start of the pandemic, both my husband and I began working from home and it was unusual having our office and our kitchen become the same space overnight. We no longer had the kitchen to escape to for a break, and were missing going to London for meetings (we live in Oxfordshire).

But although it was a bit tough to begin with, we settled into our 'new office' quite well by setting some important boundaries. Especially with my job as a columnist, it was tempting to pick up my laptop and continue working during the evenings. So, we set cut-off times, where we shut our laptops and focused on the family - which helped us to separate work and personal life, and ultimately create healthy boundaries for us all.

Where possible, my advice would be to try and create two different spaces, one for work and one for personal life. Perhaps have the designated 'office' in the kitchen, leaving the rest of the house free for family life during the day. Or for those living in flats or smaller spaces, try to tidy your work equipment away each evening so that when you are relaxing, work is out of sight – and hopefully, out of mind.



Changes to hygiene routines



One of the key things we've been told to do throughout the pandemic is to keep washing our hands. Before Covid-19, my family considered ourselves as hygiene conscious, but it's more important than ever to be vigilant. Dotting hand sanitisers through the house, to remind us to sanitise when we're back from the shops, a dog walk, even a run, has given us all some peace of mind. It's now become embedded into our normal routine.

So much so that our little one, Willow, has made our new hygiene routine into a bit of game! We like to sing a song whilst washing our hands and sometimes doing a little dance too, which gets her excited about hygiene. For parents of younger children, it can be difficult getting the kids used to washing hands – but this seemed to work nicely for us, so it stuck.



Get outdoors



I am a huge advocate for spending time in the great outdoors, and as a family that is something we've always enjoyed. So, this year we bought a puppy which has encouraged us to go out for our daily exercise. Barley, our Covid canine, has been a great focus for us as a family. Puppy or no puppy, I think it's important we remember to get out and about, even if it's just a quick walk round the block!



Being kind to yourself



I think it's really important to remember that we're all in this together. When we wake up in the middle of the night worrying about life and money, it's vital that we remember that in these unprecedented times, we are not alone.

One thing which has really helped us settle into the 'new normal' is being kinder, not just to other members of the family but also ourselves. This is a really stressful time for a bunch of reasons, and everyone will experience different emotions. So, when things do feel a bit out of control, remember to take a moment to breathe. A lot of experts say that taking a moment to concentrate purely on your breathing, with no phones or distractions, for about five minutes really helps settle our anxiety. We've been doing this at least once a day and have seen a big difference.



Tech free mornings



Another of our other coping mechanisms for living in our 'new normal' has been having tech free mornings. We were all very guilty of waking up and going straight onto our phones, spending the mornings scrolling through Instagram or e-mails, and when we finished work, straight back on our phones. Instead, we now take the first hour or so of the day to do some real-life stuff, which we have found far more rewarding. It doesn't matter if you read a book, go for a walk or play with the kids, but finding something real-life to do first thing will set up your day far better than scrolling through social media will do. During the first lockdown, I got up really early to draw every morning and it was so satisfying plus I have a lot of drawings to remind us of this time.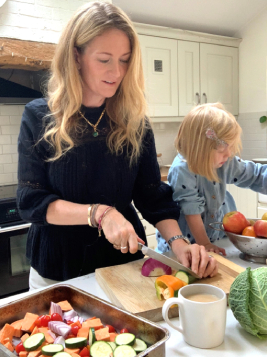 Susannah is the wellbeing columnist at the Mail on Sunday's YOU magazine. She started her career on the launch team of Glamour magazine over twenty years ago before becoming the beauty and health editor of Vogue where she worked with some of the leading photographers, experts and models in the world.
Susannah went freelance when she had her first two children before starting up the health and beauty website getthegloss.com. After having her third child she wrote a column called Healthyish in Grazia before starting at YOU magazine earlier this year.
Follow Susannah on Instagram here @susannahtaylor_
This article was written by Susannah Taylor in December 2020.